2022 Supply Chain Technology Trends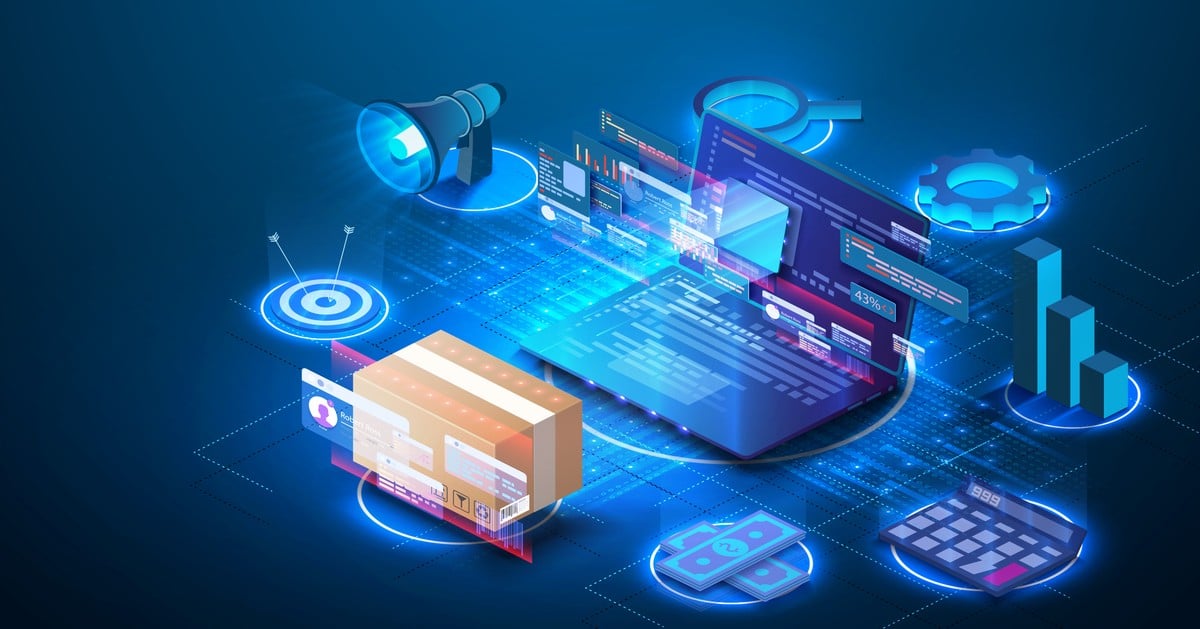 It should come as no surprise that the last two years have been unpredictable and chaotic for the supply chain industry. The pandemic created a sudden shift in both supply and demand, as well as an incredibly unstable freight market that sent shockwaves through global networks. Procurement teams and buyers went into a frenzy to move product by any means necessary to survive this unprecedented shift. This turmoil brought to light many issues in the supply chain, which proved to be inflexible and deeply fragmented.
Today's buyer is acutely aware of these issues, and more focused than ever on developing agile, efficient, and integrated supply chains. They rely heavily on emerging supply chain technology to navigate the changing landscape, as they move their teams away from the goal to "survive" the current market, and back to one that aims to "thrive" by controlling costs and diversifying supplier networks.
This article presents the supply chain technology trends that will shape 2022 and how procurement teams can utilize these solutions to develop adaptable supply chains and mitigate risks.
Automation to Streamline Efficiency
Digitization and automation are a high priority in supply chain technology, and for good reason. The supply chain industry has long relied on manual tasks to monitor complex and fragmented networks. This requires an incredible amount of time and labor to obtain any semblance of accuracy, and is still prone to human error in data entry and management. Combined with ongoing labor shortages and challenges in recruiting new employees, these traditional, manual processes are both inefficient and unsustainable.
Automation provides a solution for the supply chain by eliminating tedious, manual tasks and streamlining efficiencies. Automated technologies not only free up time, they improve productivity and minimize inaccuracies. Automation makes it possible to auto-collect data, consolidate that into useful insights, and provide supply chain teams with valuable information to manage costs, avoid stockouts, and forecast with confidence.
Efficiencies gained through automated processes have several additional benefits:
Happier, more productive workforce: When employees are not tasked with tedious, monotonous work, they have more time to focus on meaningful projects, customer service, and big-picture initiatives. This creates a more fulfilled, happier, and loyal workforce, and works in turn to grow a more productive business.

Increased collaboration: Supply chain teams that rely heavily on manual processes often do not have time or data needed to examine issues in the supply chain. Automation frees up time and provides data insights that teams can use to identify problems and work collaboratively with internal stakeholders, suppliers, and transportation providers to find solutions and further improve efficiencies.
2022 supply chain trends lean toward automation and will be focused on technology that automates processes and provides insights, so supply chain teams can spend less time chasing down information and more time solving problems.
End-to-End Visibility
End-to-end supply chain visibility is critical for a company's success, as it directly impacts ability to meet customer demand and deliver on-time, in-full orders. In the increasingly complex supply chain of global procurement, multimodal distribution, and market instability, it has proven difficult to achieve true lifecycle visibility, despite numerous technology solutions that promise it. The primary reason these technologies have so far failed to provide visibility is that they generally rely on full network adoption. That is, every stakeholder and provider in the network must opt-in and learn the software or platform in order to track a purchase order or shipment in real time. Given the wide range of visibility solutions available and the vast number of suppliers and providers, no single supply chain technology has been able to achieve a high enough level of adoption to drive significant improvements in full visibility.
Additionally, visibility technologies have been limited in their ability to track individual SKUs through the purchase order and inventory lifecycle, as they tend to rely on transportation reference numbers tied to a container, truck, or booking number. Purchase orders often span more than one container, or one container may carry multiple purchase orders, making it difficult to account for a single SKU in transit with any reliability. Without purchase order or SKU-level data available to cross-reference against current inventory, companies run a higher risk of stockouts and miscalculated demand targets.
2022 supply chain trends are moving toward more robust technology solutions for supply chain visibility. These solutions should focus on easy adoption and implementation and provide more granular inventory data to improve forecasting and minimize out-of-stock occurrences.
System Integration to Improve Communication
Supply chain communications are notoriously slow and difficult, particularly considering the global interconnectedness across time zones and languages, and the many parties that are involved in getting materials from a supplier to a final buyer. Communication that previously took place over the phone now exists across a variety of disparate technologies — email, online platforms, chat apps, text messages. While these technologies have created a faster way to communicate, they have also created a labyrinth of data and done very little to simplify supply chain processes. Supply chain teams often default to whatever communication medium their suppliers and transportation providers prefer, and are left to organize updates and information from various platforms into a cohesive internal system to get purchase order and inventory visibility. As with other manual processes, this creates problems with inaccuracies and is unnecessarily labor-intensive.
System integration technology addresses the issue of manual tracking, by meeting suppliers and transportation providers where they are and consolidating data from disparate systems into a centralized communication hub. For supply chain teams tracking hundreds or thousands of purchase orders and shipments per month these technologies help them save time, link updates to specific orders and provide high-level insights into inventory risks. Since system integration technologies work in tandem with existing systems, they provide an alternative to network-wide software adoption and are more easily implemented with less ramp-up time, making this one of the biggest supply chain trends for 2022.
Advanced Analytics via Artificial Intelligence
Data analytics are an important component of supply chain planning and evaluation. The dynamics of basic supply and demand, lead times with suppliers, freight market trends, and transit times directly impact the ability to fulfill orders and maintain operations. Supply chain trends are moving toward more advanced analytics powered by artificial intelligence (AI) and machine learning to provide insights and drive improvement in risk mitigation and demand forecasting.
Inventory management and demand forecasting require full visibility of current stock levels, incoming purchase orders, and anticipated demand. Analytics technology processes historical supply chain data and current, exact data to identify inventory risks that arise due to delays or a sudden shift in demand, and alert supply chain teams to a possible problem in real-time. This allows teams to proactively address issues before inventory goes out of stock, minimizing the risk of not meeting customer demand.
Smart data analytics also promotes dynamic demand forecasting and creates a more agile supply chain. Real-time data allows AI technology to swiftly identify changes in supply or demand and adjust forecasts, giving supply chain teams the opportunity to pivot decision-making to meet appropriate targets. Supply chain agility is critical in times of market volatility and unpredictability, and teams who utilize data analytics and AI supply chain technology to inform their planning will have a greater ability to respond to changes effectively.
Return on Investment in Supply Chain Technology
Supply chain technology trends offer solutions to many industry challenges, but to be feasible for most companies these technologies need to provide a quick return on investment (ROI). Calculating ROI on supply chain technology starts with determining the immediate and long-term benefits of the solution. These benefits could include:
Saving money by reducing redundancies;

Increasing employee productivity;

Improving efficiencies by automating processes;

Minimizing vulnerabilities that could negatively impact the business or customer relationships;

Enhancing revenue streams through extended reach of business services or products.
ROI analysis is more than a calculation of costs, it must take into account how the investment will impact the business, employees, and customers. Supply chain technology has the ability to simplify and streamline processes but should provide ample benefits to supply chain teams in the short-and long-term.
PO Status Automation and End-to-End Visibility with Leverage
Leverage provides supply chain technology solutions that modern buyers need to achieve end-to-end purchase order visibility with actionable insight into inventory risks. Leverage automates PO status collection by meeting suppliers and providers where they are — through EDI, email, WhatsApp, and WeChat — without requiring them to adopt new technology. PO and inventory updates upload to a centralized hub in real-time for true visibility across the distribution network, with AI-driven insights into potential inventory risks. Supply chain teams are alerted to risks before the out-of-stock occurrence, giving them the time they need to proactively address issues and ensure on-time in-full customer order fulfillment.
With Leverage, procurement teams get the automated visibility and analytics they need to run an efficient, solutions-focused supply chain. Their white-glove Systems Integrations team handles the heavy-lifting to launch implementation in days, not months, speeding up ROI and maximizing cost savings. Contact the experts at Leverage for a consultation and learn more about their automation and visibility solutions.
About author
@LVRG11 Formerly White House @InnovFellows, @CommonKey, @FounderyBmore, @MegaBotsInc, @projectn95