Leverage + Microsoft Dynamics ERPs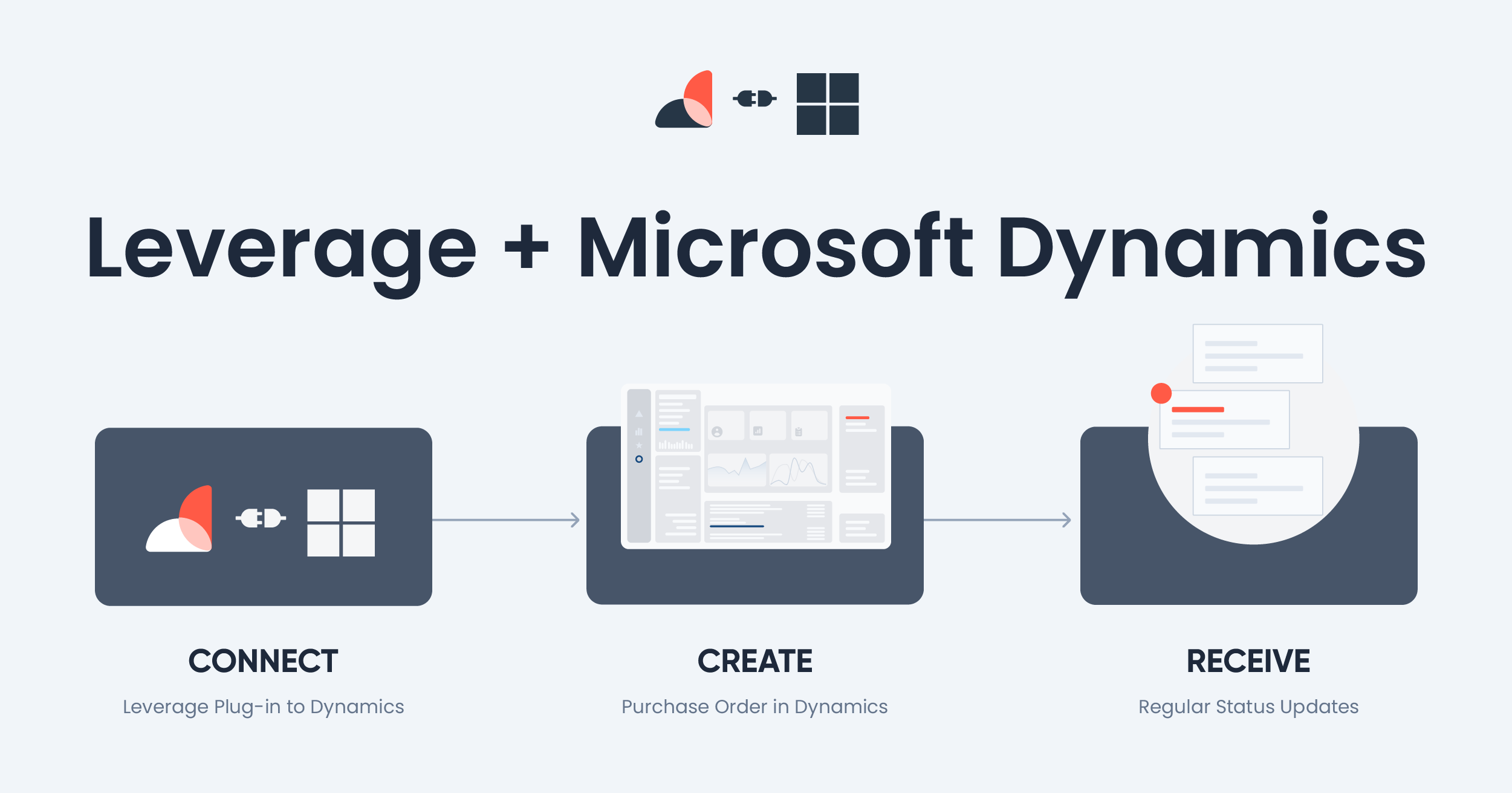 Connect your existing Dynamics ERP instances into Leverage, a centralized hub for end-to-end supply chain visibility. Increase supplier response rates, automate your PDF acknowledgments or exception handling, and instantly get the shipment status updates you need.
Simplified Purchase Order Management
Don't just rip and replace your existing system - embrace and extend it. Whether your ERP is hosted on the cloud or on-site, Leverage plugs into any Microsoft Dynamics ERP to streamline PO management processes in one fluid system.
Create purchase orders in Dynamics and let Leverage handle the PO and shipment tracking for end-to-end visibility.
Stop manually chasing your suppliers for status updates — Leverage automates your PO acknowledgment and status collection process.
Leverage automatically follows up on PO status and shipment updates until the PO is closed out in Dynamics — without the need for manual follow-up.
Increase supplier response rates and make it easier than ever for suppliers to provide consistent updates
Auto-collect purchase order status updates from suppliers and shipment statuses from freight forwarders with 100% supplier adoption.
Leverage collects the real-time updates you need with robust integrations and automated, pre-configured outreach and automatically writes the information back to your ERP - reducing the time buying teams spend manually transcribing updates.
No need for suppliers to adopt and learn new systems — Leverage meets them where they are via email, WhatsApp, WeChat, EDI, or direct integration.
Manage inventory risks with AI-driven, proactive notifications with the Leverage + Microsoft Dynamics Integration.
Leverage maps existing inventory levels against incoming POs to identify out-of-stock risks due to production or transportation delays.
Get instant notifications to address risks and minimize supply chain disruptions proactively.
How Leverage Works with Microsoft Dynamics
Leverage fills in the gaps between Dynamics purchase order creation and closeout, with automated PO communication and status updates.
Purchase Orders are created in Microsoft Dynamics.
Leverage ingests these POs automatically to handle PO communications and status updates including acknowledgments, exception handling, lead time updates, and ASN collection.
Leverage auto-tracks shipments from when they are shipped to when they hit your inventory.
Leverage auto-updates purchase orders once an invoice is paid.
Throughout this process, Leverage writes back each update to a PO or shipment to Dynamics in real time so your organization is always up to date and can keep a system of record.
End-to-end purchase order management enables your team to create and track every PO, directly collaborate with your suppliers in real time, and quickly surface and mitigate potential disruptions.
Purchase order creation, management, and reporting

Easy supplier interface within their emails for PO acknowledgements, updates, ASN collection, and collaboration

Optional supplier dashboards to provide comprehensive reporting

Automated purchase order status updates

Real-time and predictive notifications for late deliveries

Proactive category management

Robust APIs to rapidly connect with your existing systems, and your freight forwarders' systems
Leverage provides end-to-end shipment visibility so you can maintain visibility of your items at every step of the way —wherever they are.
About author
Account Executive at Leverage